The playground at Montview Community Preschool & Kindergarten has been a central part of our play-based curriculum since the school was founded over 50 years ago.  Montview children and others from our community have enjoyed countless hours of imaginative play and learning there.
If you have recently visited our playground you may have noticed our aging equipment and thinning Astroturf hill.  New playground safety requirements need to be incorporated and poor drainage needs to be addressed.
For the past couple of years teachers, parents, the church, designers, builders, engineers and others have joined together in envisioning and designing a nature-based playground for our children.  We will be breaking ground in early June with an expected completion date of August 15, just in time for the 2016-2017 school year!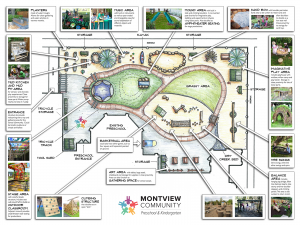 Playground concept design by Montview parent Pamela Johnston, MLA
The overall concept of our playground design is to incorporate nature as a joyful part of children's daily lives.  Great outdoor play spaces provide opportunities for children to make a mess, run, jump, climb, shout, make music and explore the natural world through open-ended play.  It supports social connections as well as spaces to sit in quiet reflection.  Good design provides for safety, accessibility, inclusion and the ease of adult supervision.  As of April 2016 we have raised $235,800. We are seeking an additional $50,000 to bring this project to completion. (see product links for funding opportunities on our site linked below)
We ask you to join our efforts in creating yet another memorable outdoor learning environment for future generations to enjoy. Please consider making a 100% tax-deductible gift today.
Play is the magic of Montview!